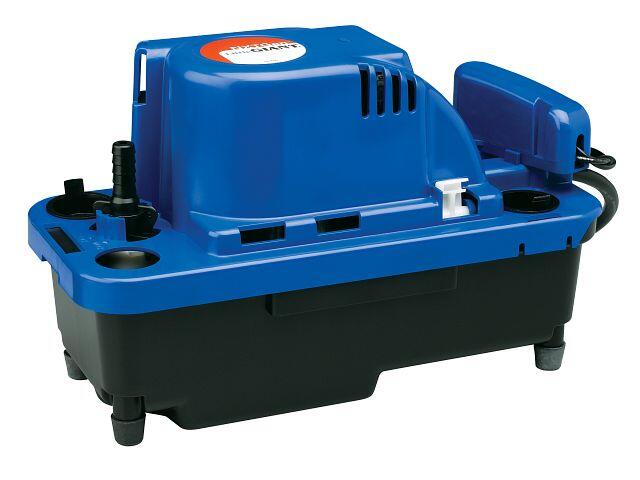 Aw-Pump offers a variety of condensate pumps to meet the needs of your specific application. We will review and explain your options for choosing the right pump for you. We also provide service and repair on most pumps.
Condensate removal pumps provide a low maintenance solution when gravity drainage is not possible or practical. These pumps work to reroute the condensate up and away from your system. We're sure to have you covered with our full range of condensate removal pumps, so there's no sweat.
Condensation build-up in air conditioning equipment can wreak havoc on your HVAC system. Little Giant's VCMX Series provides a high-capacity option for the automatic collection and removal of condensate from air conditioning, refrigeration and dehumidification equipment when gravity drainage is not possible. Its slim footprint makes it the optimal choice for tight spaces.
Features & Benefits
1/30 hp high-performance motor
ABS tank, motor cover, and volute up and down a lot.
Stainless steel motor shaft
Fully automatic start/stop and safety switch operations
Thermally protected fan-cooled motor to prevent overheating and possible motor damage
CSA certified to US and Canada standards
With the slimmest footprint of all Little Giant condensate pumps, the VCMX Series of pumps offers the largest installation flexibility. The vertical-type pump features a 3/8″ O.D. barbed with 1/4-turn quick release locking discharge adapter with built-in check valve. Three 1-1/8″ diameter inlet openings (two fitted with removal cap plugs) allow the pump to be used with multiple types of equipment, including air conditioners and furnace systems.